May
19
2016
Ankeny Family Vision Center LOVES children!! We offer InfantSEE - a program for infants ages 6-12 months! It allows those babies to come to our office for their very first eye health exam for FREE!! Our doctors are able to see any problems that may be arising and would go undetected until a pre-school exam!! We also have highly skilled techs who put those "littles" at ease and help them to enjoy the time in our office. We also offer a space just for them in our reception room. We have many books and a TV for them to watch their favorite educational program - giving mom a short break as they wait for their turn!!
And now, we have added a FUN feature to our exam rooms - just for kiddos!!!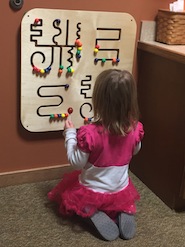 Our little ones are enjoying playing with these boards as they wait for their siblings to finish or for the doctor to arrive!! It has been a FUN addition and we are excited that they are serving the purpose that was intended!!!