Meet Our Team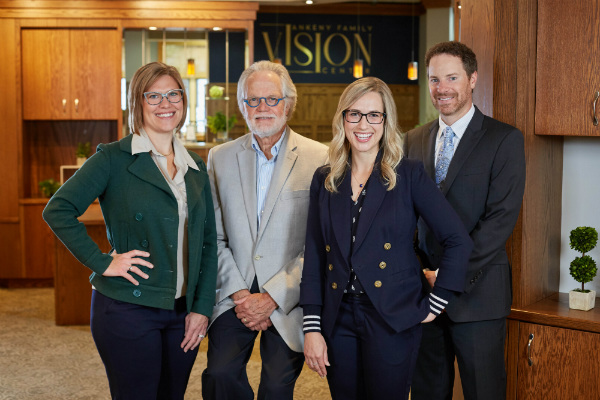 Dr. Kenneth R. Hansen, O.D.
Founder of Ankeny Family Vision Center,
Optometrist

Dr. Kenneth Hansen founded Ankeny Family Vision Center in October of 1977 in 700 square feet of space with one employee! After 40 years at the helm, in December of 2017, he placed AFVC in the hands of Dr. Mandy Pietig. Through her vision, it has grown in the number of doctors as well as employees – one of which is Ken! He is enjoying just being a doctor these days and leaving the administrative duties to Dr. Pietig and her team.

Dr. Hansen is continuing to see patients three days a week and enjoys his well-earned 4-day weekends. He also stays busy being on the Board of Faith Baptist Bible College and Alpha Women's Center here in Ankeny, as well as spending time with his wife, Marcia, and his 14 grandchildren, who are the apple of his eye!

Dr. Hansen graduated from the University of Houston with his Doctor of Optometry in 1974 and served in the military for 17 years as both a Naval officer and the optometrist for the Iowa Army National Guard.

He enjoys the challenge of fitting contact lenses, as well as providing the individualized, comprehensive and preventative eye health care that has always been his passion. He also co-manages surgery patients and loves seeing the multiple generations of patients he has for their primary eye health needs.

At this particular time, Dr. Hansen has no plans to retire. He loves meeting the eye care needs of the Ankeny community and will continue his legacy until the Lord directs him in another ministry. Who knows? It has been 45 years since graduating, maybe he will make it to his 50th year of practicing optometry!!
Drs Todd and Mandy Pietig
Owners of Ankeny Family Vision Center

Dr. Mandy Mataya Pietig, O.D.
Owner of Ankeny Family Vision Center,
Optometrist

Dr. Mandy Pietig is the owner of Ankeny Family Vision Center as of January 2, 2017. Dr. Pietig has worked with Dr. Hansen since 2009 and shown herself capable of taking this office to new heights. She is young, energetic, and business-minded. She has a vision for the practice and is looking forward to continuing the legacy that Dr. Hansen has planted and nurtured the last 39 years.
Dr. Pietig is a native of Madrid and received her Doctor of Optometry in 2007 from the Illinois College of Optometry. She is an outstanding optometrist and treats each patient with individualized and comprehensive eye health care.
Dr. Pietig is involved in the diagnosis and treatment of all patients and specializes in working with those patients experiencing dry eyes, diabetes, high blood pressure and glaucoma as well as many childhood conditions, such as lazy eye and amblyopia. She also takes a special interest in unique and difficult-to-fit contact lenses.
Dr. Pietig also enjoys seeing pediatric patients starting at 6 months of age through our InfantSEE Program. Many eye conditions do not show symptoms that can be identified by a parent or well-baby check. Vision development and eye health problems are easier to correct if treatment begins early.
Dr. Pietig is married to Dr. Todd Pietig, an optometrist, and they reside in Ankeny. Three boys take up their time out of the office.
Dr. Tilena Waters, O.D.
Optometrist

Raised in Marion, Iowa, Dr. Tilena Waters received her Doctor of Optometry in 2006 from the Illinois College of Optometry. She completed a residency in Pediatrics and Primary Care at Nova Southeastern University in Ft. Lauderdale, FL in 2007. Dr. Waters's passion for optometry led her to further post-doctorate education. She received a Fellowship in the prestigious American Academy of Optometry in 2010.
Dr. Waters joined Ankeny Family Vision Center in February 2017. Her extensive education allows her to diagnose and treat patients of all ages. In addition to providing comprehensive and preventative eye care, Dr. Waters treats patients with conditions such as dry eye syndrome, glaucoma, and diabetes. She is specialized in treating childhood vision dysfunctions such as amblyopia, binocular vision dysfunctions, and visual information processing disorders.
Outside of the office, she and her husband, Dan, enjoy traveling, spending time with family, gardening, photography, and going on walks with their dog, Sofi.
Dr. German, O.D.
Optometrist

Dr. Kelly German grew up in the small town of Lynnville, Iowa. She earned her B.A. in biology at the University of Iowa and went on to receive her Doctor of Optometry degree from the University of Missouri-St. Louis in 2016. Dr. German began her professional career in Boulder, Colorado, before returning to her home state of Iowa in 2018.
Professionally, she now focuses her attention on family practice optometry, as she enjoys being able to care for entire families—from contact lenses, to disease management, to infant eye exams—in a relaxed and informative setting. She has also received an award from Allergan regarding the diagnosis and treatment of dry eye. She is also a proponent of humanitarian work both internationally and locally; she has participated in a mission trip to Peru and aided in organizing a free eye clinic in St. Louis monthly while living in the area.
In her free time, you will likely find Dr. German enjoying a sporting event with her husband, Dustin, including many road trips to see their favorite teams. They also enjoy spending time outdoors with their cat Von and rescue dog Kuper.
Crystal
Director of Operations,
Office Manager

Crystal joined AFVC in April of 2017. She proudly serves AFVC as the Director of Operations, Office Manager.

Crystal studied at DMACC of Ankeny. Originally from the Cedar Falls, IA, area Crystal and her family now call Ames home.

While Crystal takes pride in being part of the AFVC team, her favorite role is wife to her husband, Tyson, and mom to their five children, Klaire, Emmie, Parker, Charlotte, and Wells. She is passionate about her faith, family, and fully living the ups and downs of life.

You may email Crystal at This email address is being protected from spambots. You need JavaScript enabled to view it.
Erin
Clinic Coordinator

Erin joined AFVC in January of 2013. She has served as front desk coordinator and currently serves as clinic coordinator.

Erin was born and raised in Denison, Iowa, and moved to Ankeny in 2006 with her family. She and her husband, Shawn, have two daughters, Morgan and Aubrey.

In her free time, Erin enjoys relaxing at home with her family and reading.



Barbara, A.B.O.C., N.C.L.E.C.
Certified Optician,
Certified Contact Lens Technician

Barbara has been a part of AFVC for over 9 years. She received her training in Opticianry in Minnesota and Colorado.

Her knowledge and experience in eye care allows her the ability to help with frame styling, custom fitting of eyewear, making adjustments as needed, filling prescription eyewear, and educating patients on the latest in digital lens design and coatings.

Barbara also assists our doctors with diagnostic testing and trains in the use and care of contact lenses.

Barbara enjoys spending time with her husband, Tom, boating, fishing, and spending time with Marley, their English Pointer.
Sydney
Optician

Sydney joined our team in December of 2017. She readily serves our patients and our team as an optician. Sydney is always up to date on the latest optical styles and enjoys assisting our patients in choosing the right frames for each individual.
Sydney loves spending time with her family and making others smile. She is artistic and creative, and we can always count on her to be acquainted with the current fashion trends.



Brittney, A.B.O.C., N.C.L.E.C.
Certified Optician
Certified Contact Lens Technician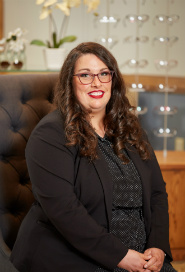 Brittney joined Ankeny Family Vision Center in March of 2019. She has been an optician for 10 years.

Brittney is originally from Robinson, Illinois. She moved to Champaign, IL, where she attended school. Brittney and her husband now reside in Urbandale.

The art of frame styling is one of Brittney's passions, and she is proud of her drive to keep current with the latest in optical fashion trends.

In her free time, Brittney enjoys traveling with her husband to Hawaii and spending time with their two dogs..
Brian
Certified Paraoptometric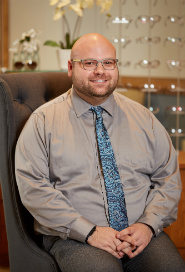 Brian joined Ankeny Family Vision Center in June of 2019. Brian is a Certified Paraoptometric, and he is working towards his ABO certification. He serves our team and patients in the optical area and as an optometric technician.

Brian is originally from the quad cities but now resides in Grinnell. He has been married for 8 years and has two dogs, Bobo and Bowser.


Savannah
Technician/Front Desk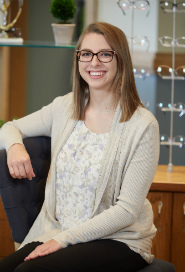 Savannah joined AFVC in July of 2018. She warmly serves our patients as Dr. Pietig's technician as well as working at the front desk.

Savannah attended Des Moines Area Community College and graduated in 2018 with an Associates in Management, a Human Resource Certificate, and a Sales and Management Diploma. She grew up in Indianola, IA, but currently lives in Ankeny.

Savannah loves to spend time with her family as often as she can. She also loves traveling, getting coffee with friends, and being with her four fur babies.
Peyton
Optometric Technician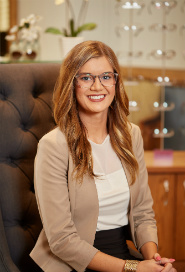 Peyton joined the Ankeny Family Vision Center team in September of 2018 as an optometric technician. Peyton works closely with Dr. Waters and performs pre-testing for our patients. Peyton is originally from Minnesota; however, she now resides in Mitchellville, IA, with her sweet dog, Bristol.

While Peyton enjoys her time at AFVC, she is passionate about travel. She loves spending time with friends and family. Peyton enjoys sprint car racing and likes to spend her spare time at dirt tracks.
Sue
Optometric Technician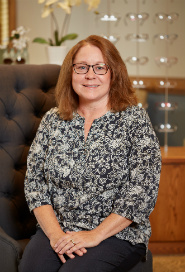 Sue joined the AFVC team in October of 2018. She has worked in eyecare since 2007 and currently serves as an optometric technician for Dr. Hansen. She truly enjoys helping patients with their eyecare needs.

Sue grew up in Northwest Iowa. In her free time, she enjoys spending time with her husband and two children, riding bikes on the High Trestle Trail and cheering on the Cyclones.


Bethany
Billing Systems Manager

Bethany joined AFVC in June of 2016. She serves our patients and our team remotely as our Billings System Manager.

Bethany earned her BBA in Finance from the University of Iowa's Tippie College of Business in 2013. She was born and raised in Urbandale, Iowa, and graduated from Dowling Catholic High School.

Bethany now lives in Urbandale with her husband, Anton, and their son Aiden and daughter Ryley. They love spending time together as a family, doing anything surrounding water. They look forward to the summer season, as they enjoy camping, swimming and boating.
You may email Bethany at This email address is being protected from spambots. You need JavaScript enabled to view it.
Kirsten
Business Office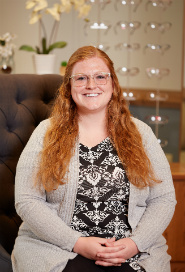 Kirsten joined AFVC in January of 2018. She serves our patients and our team as a front desk receptionist.

Kirsten attended DMACC to study Culinary, Business Administration, and Management. Kirsten was born in San Jose, California. She moved to Iowa with her family at age seven where she later graduated High School from Jefferson Scranton High. After graduating from DMACC in 2014, Kirsten spread her wings and moved back to California. She enjoyed three years in California but realized that wasn't her home. In 2017 Kirsten moved back to Iowa and is proud to now call Ankeny home.

Kirsten has two adorable rescue dogs that complete her family. In her free time, Kirsten enjoys fishing, camping, and spending her summer days at car shows across the state of Iowa.
Mallory
Front Desk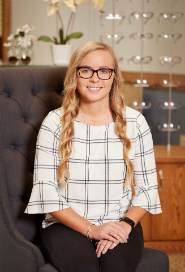 Mallory joined AFVC in September of 2018. She serves our patients and our team as a front desk receptionist.

Originally from Callender, IA, Mallory is currently a resident of Grimes. Mallory graduated from Des Moines Community College with her Associate Degree in Marketing.

In her free time, Mallory loves being outdoors, especially camping, hunting, and fishing. Mallory also loves spending time with her family and friends.


Susan
Front Desk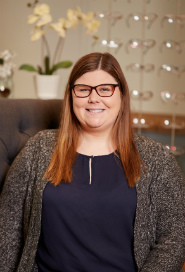 Susan joined AFVC in October of 2018 as a receptionist. As our front desk receptionist, Susan answers the phones, books appointments and assists our patients with check-in and check-out.

Born in Keokuk, IA, Susan now resides in Ankeny. She recently wed and is married to Justin. They are looking forward to their first year of marriage.

In her free time, Susan enjoys traveling, hiking, watching college football (go Hawks!), and white water rafting. Susan and Justin have two fur babies, a golden retriever and a black lab.