Meet Our Team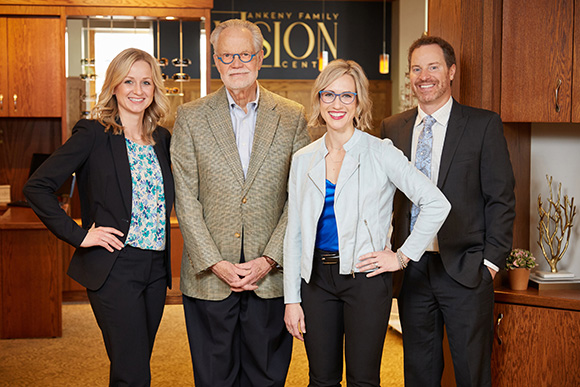 Dr. Kenneth R. Hansen, O.D.
Founder of Ankeny Family Vision Center,
Optometrist

Dr. Kenneth Hansen founded Ankeny Family Vision Center in October of 1977 in 700 square feet of space with one employee!! He graduated from the University of Houston with his Doctor of Optometry in 1974 and served in the military for 17 years as both a Naval Officer and the optometrist for the Iowa National Guard.
In 2017, he sold his practice to his associate of eight years, Dr. Mandy Pietig, and under her leadership it has grown in doctors and employees—one of which is Dr. Hansen! At 73, Dr. Hansen is enjoying just being one of the doctors and leaving the administrative duties to Dr. Pietig and her team.
Dr. Hansen enjoys the challenge of fitting contact lenses, as well as providing the individualized, comprehensive and preventative eye health care that has always been his passion and for which Ankeny Family Vision Center is known. He also co-manages surgery patients and loves seeing the multiple generations of patients he has for their primary eye health needs.
At this time, Dr. Hansen has no plans to retire. He sees patients three days a week and enjoys his four-day weekends. He loves meeting the eye care needs of the Ankeny community and will continue until the Lord directs differently.
He serves on the Faith Baptist Bible College Board of Directors (17 years), and also Alpha Women's Center Board here in Ankeny. He also spends time with his wife, Marcia, and his 14 grandchildren!!
Ankeny Family Vision Center celebrated 45 years of serving the Ankeny community in 2022, and 48 years of practice for Dr. Hansen!
Dr. Mandy Mataya Pietig, O.D.
Optometrist

Dr. Mandy Pietig joined AFVC in 2009 and transitioned to owner in 2017. Dr. Pietig, a native of Madrid, received her Bachelor of Science from the University of Iowa before completing her Doctor of Optometry degree at the Illinois College of Optometry in 2007. As she aptly navigates running the clinic and providing excellent patient care, she seeks to enhance the quality of life for each and every person with whom she interacts. She is a strong advocate for informed medical decision-making and strives to recommend the best course of action for each of her patients.
One of Dr. Pietig's passions lies in seeing children thrive. She starts seeing patients as early as six months of age! As 80% of learning is visual, her goal for every child is success in school, sports, and beyond. She also enjoys a variety of contact lens challenges—myopia control, medically necessary contacts, multifocal lenses, even scleral and specialty contact lens fits for keratoconus and dry eye.
Whether you are simply in need of a routine eye exam or faced with a medical eye condition such as pink eye, diabetic retinopathy, glaucoma, or macular degeneration, Dr. Pietig will take the time to listen to your concerns and develop an individualized treatment plan to meet your unique needs.
Outside of the office, Dr. Pietig can be found hiking or traveling with her boys—if she can keep up! She loves that God made her a mother to three boys and wife to Todd and values spending all the time she can with her family. She is rarely without a book and is particularly grateful for the support of her book club and Bible study gals. A fun fact about Dr. Pietig—she was a black belt and qualified for the Olympic team...many, many years ago.
Dr. Todd Pietig, O.D.
Optometrist

Dr. Todd grew up in Carroll, Iowa on a family farm. He received his bachelor's degree at the University of Northern Iowa and then completed his doctorate at the the Illinois College of Optometry. He has over 12 years of diverse experience with a special interest in dry eye and myopia control, such as ortho k, and medical eye care. He is also outstanding with children and you can often find him playing with his 3 children, Alex (8), Austin (5), and Max (2). Dr. Todd's hobbies include golfing, fishing, and camping, and he hopes to take his kids to a national park every year. He looks forward to providing individualized and comprehensive eye health care to the Ankeny community and surrounding areas.
Dr. Erica Seelye, O.D.
Optometrist

Dr. Erica Seelye is originally from North Dakota but has been happy to call Iowa home for the last 5 years. Upon completing her undergraduate degree at the University of Mary, she went on to earn her doctorate of Optometry from Pacific University in 2015, graduating with distinction. She is a member of the Iowa Optometric Association and enjoys seeing patients of all ages. In her spare time, Dr. Seelye enjoys relaxing at home with her husband, son, and family dog. She also likes to travel and spend time outdoors, whether going for a walk or keeping busy with yard work.