Meet Our Team
Raquel | Clinical Esthetician
Raquel joined our team in March of 2018 for the opening of Ankeny's first Optometric Led Eye and Facial Spa. She joined our team as a licensed esthetician. Raquel is passionate about self-care and the importance of taking care of your body and your skin.
Raquel studied and graduated from PCI Academy with dual licenses. She is also certified in Microdermabrasion, Lash Extensions, and Chemical Peels. Raquel looks forward to serving the Ankeny community through our Eye and Facial Spa; she enjoys being a part of transitioning individuals into a healthier "you".
Raquel grew up in Washington, IL; but, Ankeny became her home in 2009. While Raquel enjoys her time at AFVC, her most important role is wife and mom to her twin daughters.She is a true artist in every sense of the word and exudes creativity."
Dr Andrew C.G. Steffensmeier, M.D.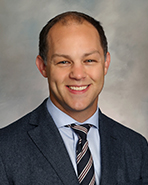 Raised in Iowa City, Dr. Andrew Steffensmeier received his medical degree from the University of College of Medicine in Iowa City. He completed a residency in ophthalmology, also at the University of Iowa. Dr. Steffensmeier is board certified by the American Board of Ophthalmology and enjoys serving Des Moines, Ankeny, and the surrounding areas. He has devoted his career to aiding individuals with a variety of ophthalmic concerns including iLASIK surgeries, ophthalmic plastics, cataract and refractive surgery, and corneal pathology and surgery.

Dr. Steffensmeier joined Ankeny Family Vision Center's Eye & Facial Med Spa in June 2018. His partnership and expertise allows our clinic to offer the best in injectable services. Dr. Steffensmeier will be offering his extensive skills to treat patients interested in receiving BOTOX treatments for a variety of reasons that could include smoothing facial lines and wrinkles, adding volume and improving contours, filling in thin or wrinkled lips, correcting smile lines, and diminishing acne scars. Along with our Eye & Facial Med Spa, Dr. Steffensmeier is committed to helping you achieve a natural and beautiful appearance.

Outside of the office, Dr. Steffensmeier enjoys spending his free time with his wife and their two children. He appreciates being active and any time spent outdoors..